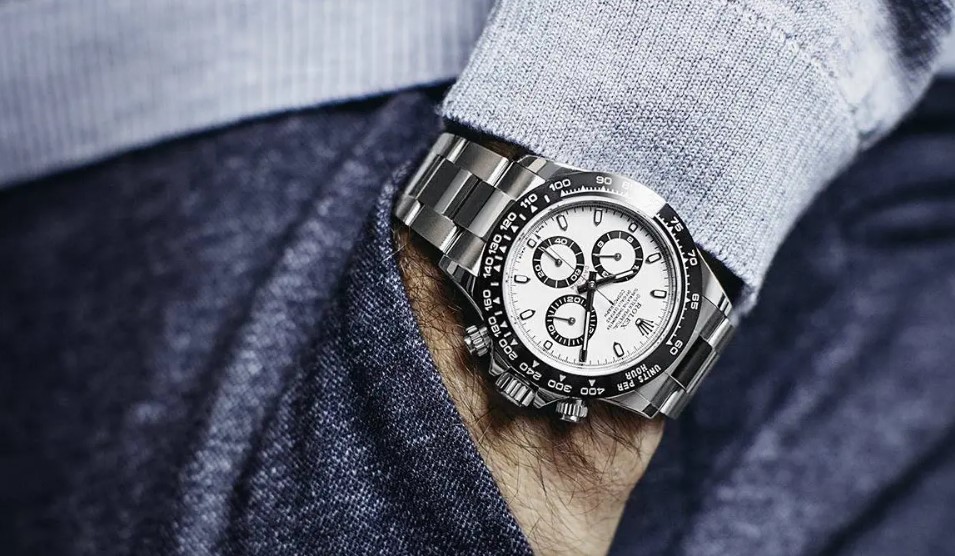 Rolex has remained the leading luxury watch brand for over 100 years due to its high-quality craftsmanship and purpose-driven design. Hans Wilsdorf, the founder of Rolex, chose the crown as the company's logo, representing its status as the king of watches. Rolex's reputation goes beyond just marketing – the brand has earned its prestigious image by continuously making excellent timepieces. 
Rolex's reputation as the king of watch brands is not just a title earned through popularity. It comes from a legacy of crafting unparalleled products with unique and practical features.Rolex creates many classic models to aid specific professions. For example, Rolex designed the GMT-Master to help pilots track multiple time zones when jet travel emerged. Rolex built the Submariner to withstand underwater pressure for divers. 
Rolex's legacy of manufacturing watches with real-world usefulness for adventurous jobs cemented its outstanding quality and performance reputation. This commitment to excellence is why Rolex remains one of the most influential and recognizable luxury watches for men.
Rolex: A Legacy of Excellence
Stylish Rolex watch models add flair and sophistication to any well-dressed gentleman's wardrobe. From rare vintage pieces to modern collections with bold personalities, these are our top Rolex watch recommendations for the discerning, fashion-forward male consumer in 2023
1. The Rolex Day-Date – Sophisticated and Statement-Making
Nicknamed the "President's Watch" for its famously wealthy and powerful wearers, the Rolex Day-Date has always conveyed luxury, success, and extravagance. Rolex first made the Day-Date in 1956. It was one of the first watches to show the date and the day of the week.
Rolex offers the striking Day-Date watch exclusively in precious metals like platinum, yellow gold, white gold, or everose gold. Modern Day-Date models come in a range of dial colors and index styles. The bezel, lugs, and bracelet, among other customizable elements, allow countless choices for distinctive customization.
A Rolex Day-Date with an intricately detailed dial-in color like dark green, cognac, or turquoise is stylish. Pair it with a fluted bezel to make the ultimate luxury accessory for a fashion-forward gentleman. It helps exude confidence, success, and sophistication.
2. Rolex Daytona – Iconic Racing Heritage
Any discussion about elegant Rolex sports models must include the storied Daytona. Rolex introduced the Daytona in 1963 as a chronograph watch specifically designed for professional racecar drivers. Over the years, it developed into one of the world's most well-known and sought-after luxury watches. The words "Daytona" connote excellence and status in motorsports.
Nowadays, authorized dealers frequently have multi-year waiting lists for stainless steel Daytona versions. The striking black Cerachrom bezel and three contrasting registers on the dial remain iconic symbols. The stopwatch feature offers the necessary tool for drivers and racing enthusiasts. The Daytona also complements the current male fashion for vintage-inspired apparel and accessories. 
3. Vintage Rolex GMT-Master – Understatedly Cool and Retro
Many watch enthusiasts now adore the contemporary stainless steel Rolex GMT-Master II with its Cerachrom bezel insert. However, the vintage GMT-Master references from the 1950s and 1960s have an indisputably more fabulous, retro-chic look.
The "Pepsi" GMT-Master ref. 1675 introduced the red and blue colorway on the distinctive dual-time bezel. Additionally, the GMT-Master ref. 1675 with an acrylic bezel insert, and the maxi dial has an old-school charm. Along with telling time, its faded bezels and spiderweb dial fractures give them character and the ability to tell tales.
A GMT-Master II on a weathered leather strap looks stylishly masculine on the wrist of a fashionable gentleman. The early Coke and Pepsi bezel colors are beautiful and timeless. A vintage Rolex GMT adds a hip, retro flair to any ensemble, from business casual to weekend wear.
4. The Rolex Air-King – Quintessential Dress Watches
The Air-King, often overshadowed by its more famous cousins like the Daytona and GMT-Master, is a fantastic watch. It is unique in Rolex's history, first introduced in 1945 as an entry-level model. During World War II, Rolex produced several "Air" watches to pay tribute to the RAF pilots, including the Air-Lion, Air-Giant, and Air-Tiger, which are now largely forgotten.
Its name, "Air-King," originates from its size at the time, which people considered quite large at 34mm, although, by today's standards, it may seem tiny. Some people may find the mix of large numbers at 3, 6, and 9 o'clock, along with the prominent minute's scale, a bit unusual for Rolex's known "classic" designs. But most people are big fans.
In 2022, Rolex relaunched the Air-King with updates, including a redesigned bracelet, the latest caliber 3230 movement, and a more efficient gear train. The Rolex Air-King is the ultimate gentleman's dress watch. For the fashion-forward man who wants the iconic Rolex name on a quintessentially formal timepiece, the Air-King is perfect for business suits or black-tie events.
5. Rolex Yacht-Master 42 – Big, Bold, Modern Style
The Yacht-Master 42 is Rolex's most audacious and adventurous sports watch design in the large watch trend. The new Yacht-Master 42, released in 2022, is available in Rolesium. It consists of Oystersteel and 18K yellow gold.
The Yacht-Master 42 has a commanding wrist presence with its robust 42mm case size, modern matte finishes, squared lugs, and massive screwed-down crown. When this ultra-modern When pairing Rolex design with the new "dusty" dial colors like slate grey and khaki green, the overall effect exudes steely masculine elegance.
For the fashion-forward gentleman who wants to make a statement, the Yacht-Master 42, with its contemporary masculine energy, is the ultimate large, modern luxury sports watch from Rolex. A Champion sweatshirt and white t-shirt may be all you need to complement this bold, masculine statement piece.
What Rolex Is For You?
When considering which Rolex is right for you, ask yourself whether you prefer a sports or dress watch. While dress watches look more elegant, they may not suit casual outfits like jeans and t-shirts. On the other hand, you can wear a sports Rolex with both formal attire and more casual outfits. The Explorer or Explorer II models are great options if you want a versatile choice.
Also, think about how often you plan to wear the watch. If it's for everyday use, consider a durable and reliable model that can withstand daily wear. Next, consider the image you want to project with your Rolex. Avoid overly trendy or flashy styles, and opt for a timeless design that you'll still love in the long run.
Where to Buy?
The best and safest choice when purchasing a Rolex is to buy from an authorized dealer certified by Rolex. Building a relationship with a local dealer can help get popular steel sport models that often have waitlists.
Conclusion
When you wear a Rolex, you select a timepiece with rich history, uncompromising performance, and enduring style. Rolex's continued innovations in watchmaking confirm the brand's place at the apex of prestige watches in 2023 and beyond. Whether you prefer a vintage model or a modern metal, wearing a Rolex completes the look for today's fashion-conscious gentleman.
Related Posts