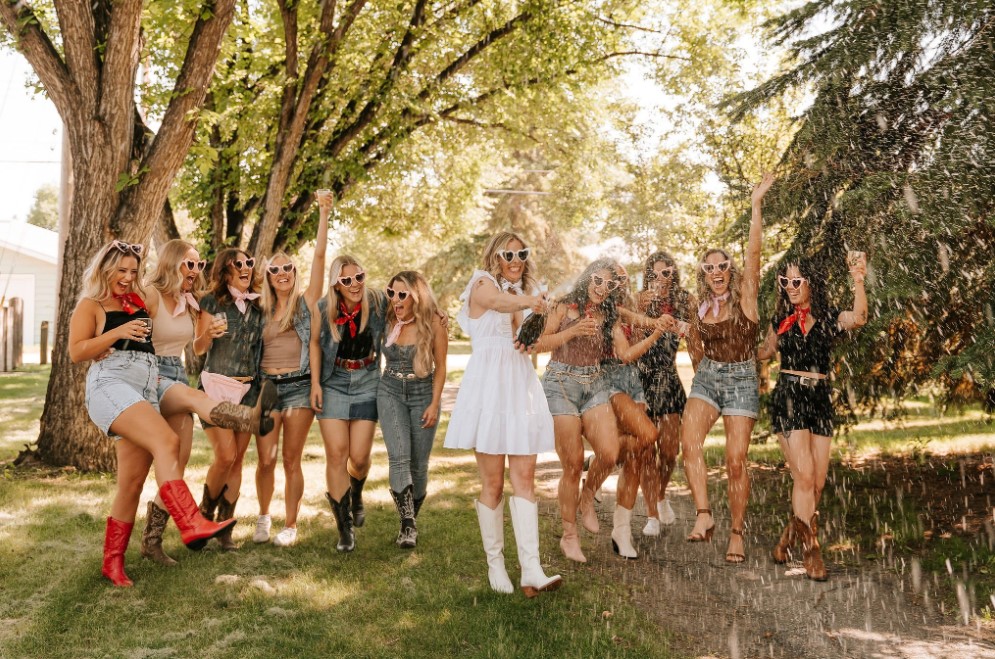 As the bride-to-be embarks on her final hurrah as a single woman, her bachelorette party becomes a memorable milestone. Partying with friends calls for special attire, and choosing the perfect bachelorette outfit can be exciting yet overwhelming. This article serves as the ultimate guide to help you find the ideal ensemble that combines style, comfort, and celebration.
Setting the Tone with Theme and Location
The first step in selecting a bachelorette outfit is to consider the theme and location of the party. Whether it's a wild night out in the city, a tropical beach getaway, or a cozy weekend in the countryside, the setting will influence your wardrobe choices. Opt for a flirty cocktail dress or a jumpsuit for a night on the town, a breezy sundress for a beach retreat, or casual-chic attire for a rustic destination.
Color Palettes and Style Inspiration
Once you have an idea of the party's setting, consider the color palettes for your bachelorette outfits  and style inspiration that align with the bride's personality. Classic choices like white or blush tones reflect tradition and elegance, while bold colors like red or metallics add a touch of glamour. If the bride has a favorite color, incorporating it into your outfit or accessories can be a thoughtful gesture. Take inspiration from fashion trends, such as bohemian chic, retro glam, or contemporary minimalism, to curate a unique look that stands out.
Outfit Ideas for Different Bachelorette Party Themes
Night on the Town
For a night of celebration and dancing, high heels or fashionable ankle boots are an ideal complement to your outfit. There are several variations accessible, whether you like an elegant aesthetic or a more glamorous one. A bodycon dress with sequin accents emanates elegance, while a little black dress with cut-out features adds a touch of sophistication. Pair your attire with a cocktail dress to round off your style for a chic and fashionable look.
Beach Getaway
If the bachelorette party takes place at a sunny beach destination, opt for lightweight fabrics and flowy silhouettes. Maxi dresses or rompers in vibrant colors or floral prints are perfect choices. Don't forget to accessorize with a floppy hat, sunglasses, and comfortable sandals or espadrilles.
Rustic Retreat
For a more laid-back celebration in a countryside setting, embrace a boho-chic vibe. Opt for flowy midi or maxi dresses in earthy tones, paired with ankle boots or comfortable sandals. Layer with a denim jacket or a chunky cardigan for cooler evenings.
Accessories and Finishing Touches
To elevate your bachelorette outfit, pay attention to the accessories and finishing touches. A statement necklace or a pair of statement earrings can add a touch of sparkle and glamour to your look. Consider a clutch or a small crossbody bag that complements your outfit and allows you to carry your essentials conveniently. Don't forget to bring a jacket or shawl for cooler evenings or air-conditioned venues.
If you're planning a themed bachelorette party, incorporate fun and playful accessories that align with the theme. For example, if it's a retro-themed party, accessorize with cat-eye sunglasses or a headscarf. If it's a tropical beach getaway, adorn your hair with a floral crown or a beach-inspired hair accessory.
It can never go wrong if you pick the right shoes. Opt for comfortable yet stylish options that match the theme and location. Block heels or wedges are a great choice for a night out, while flat sandals or espadrilles work well for a beach or rustic setting.
Conclusion
Choosing the perfect bachelorette outfit involves considering various factors such as theme, location, color palettes, style inspiration, accessories, and finishing touches. By putting thought into each element, you can create a cohesive and stunning ensemble that ensures you look and feel fabulous while celebrating the bride-to-be.
Related Posts